Professor Edwin Wade Notes - March 25, 2013
Why Collect Pueblo Pottery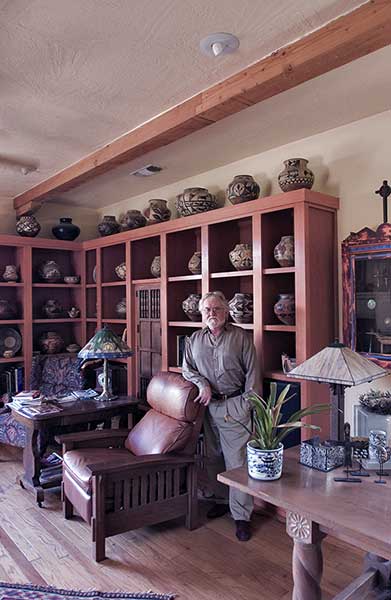 Dr. Edwin Wade was a Harvard University Professor and assistant director of the Peabody. He currently is an advisor to major Museums and Foundations helping with their acquisitions and collections. A recognized authority on Southwest Pottery, his personal collection of antique Hopi Pottery is among the finest in the world.
Ed, why Collect Pueblo Pottery?
Well, the simplest answer is that you like it.
But within the world of art collecting there are other valid motivations. To be a knowledgeable trendsetter who is shaping the future is one. Museums did not build themselves, and the direction of their interests was shaped by the personal passions of like-minded collectors. In themselves museums tend to be conservative institutions; their purpose is to preserve and teach. It is the explorative, experimental, risk-taking collector who opens a new aesthetic landscape of experience, which if it turns on others, can change the face of art history. It is from here that the new books, exhibitions, and academic studies may arise.
In this regard Pueblo pottery provides a poignant insight into the artistic changes brought by colonialism and the transformation of a formerly independent people into an ethnic minority. It also offers a belated respect for the original women artists of America and their artistic struggle to maintain a cultural identity through art.
For other collectors, though appreciative of beauty, it is also the hunt, and the investment potential of art, that intrigues them. The history of collecting is replete with the miraculous finding of a garage sale trinket that suddenly emerges as a lost masterpiece of antiquity. For the prudent market savvy collector, a "catch-and-release" purchase may net 25% to 50% (funds that can be reinvested in even more alluring "keeper," or in other ways). Of course a deep knowledge of and obsession with market trends, fellow aficionados, and institutional buy-ins are necessary, but for those interested in such things great pleasure can be found. Since the 1960s, when the Pueblo pottery market began to expand, a $65 dollar 1890 Acoma bird jar by the 1970s was priced $2,500 to $4,000, ten years later $10,000 to $15,000, and today $20,000 to $35,000. A decent return on any investment, particularly one the investor can take joy in seeing every day.
Yet long-term collecting strategies offer even more opportunities to the astute buyer. Capital gains and inheritance taxes once again are on the rise and their offsets are few. Collecting may offer either a short term or multigenerational solution for maximizing deductions and preserving inheritance, while at the same time preserving rare and beautiful objects for posterity. Understanding the logic and mechanisms used in the creation of an intellectually and aesthetically significant collection assures the cohesion of a body of objects both publicly and privately desirable. Creating a collection with the 20- to 40-year objective of non-profit donation strengthens the cultural institutions of our nation, provides national recognition to the donors and their descendants, and may also dramatically offset inheritance and other taxes, allowing collectors to "put their money where their heart is." It's a total win, win.
As with the development of any market tool and strategy, it is advisable to consult with proven professionals in a field, and that is no different for art collecting. Ed Wade